United Kingdom Disability History Month 2020: 18th November until Friday 18th December 2020.
The theme is Access: How far have we come?
How far have we to go?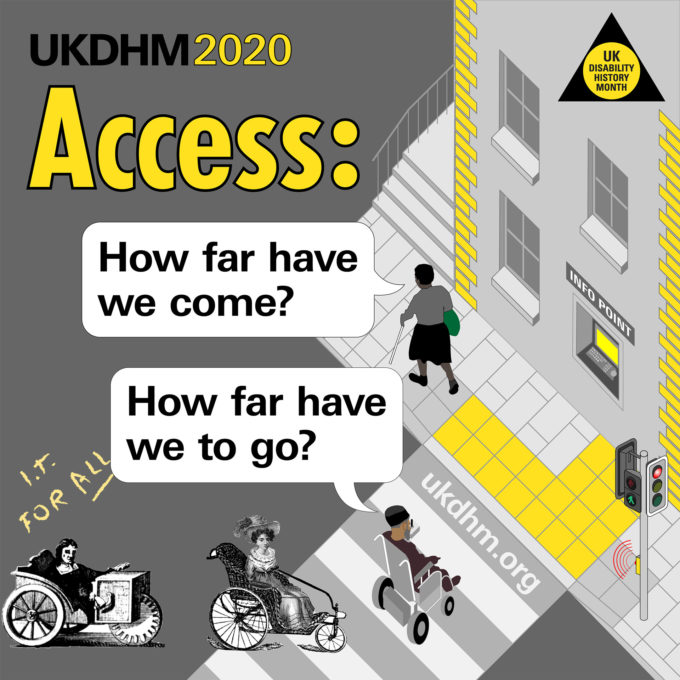 We are developing and sharing a wide range of resources to:
Understand the importance of the struggles of Disabled People for Access;
Understand the Human Rights Principle of Access for Disabled People;
Apply Universal Design to environmental, communication, educational, occupational, organisational issues to minimise barriers to Disabled People and maximise our participation.
The Government ratified the United Nations the Convention on the Rights of Persons with Disabilities (2009). Article 9 stipulates, "to enable persons with disabilities to live independently and participate fully in all aspects of life, States parties shall take appropriate measures to ensure to persons with disabilities access, on an equal basis with others, to the physical environment, to transportation, to information and communication including information and communication technologies and systems, and to other facilities and services open or provided to the public, both in urban and in rural areas. These measures shall include the identification and elimination of obstacles and barriers to accessibility." It is important that accessibility is addressed in all its complexity, encompassing the physical environment, transportation, information and communication, and services. As long as goods, products and services are open or provided to the public, they must be accessible to all, regardless of whether they are owned or provided by a public authority or a private enterprise.
"Universal design" means the design of products, environments, programmes and services to be usable by all people, to the greatest extent possible, without the need for adaptation or specialized design. "Universal design" shall not exclude assistive devices for particular groups of persons with disabilities where this is needed.