16th November to 16th December 2023.
Disability, Children and Youth
Event
Thursday 30th March 2023 6.00-8.00 pm
at NEU's Mander Hall, Hamilton House, Mabledon Place, London WC1 1H 9BD Contact rlrieser@gmail.com to book a place streamed or face to face.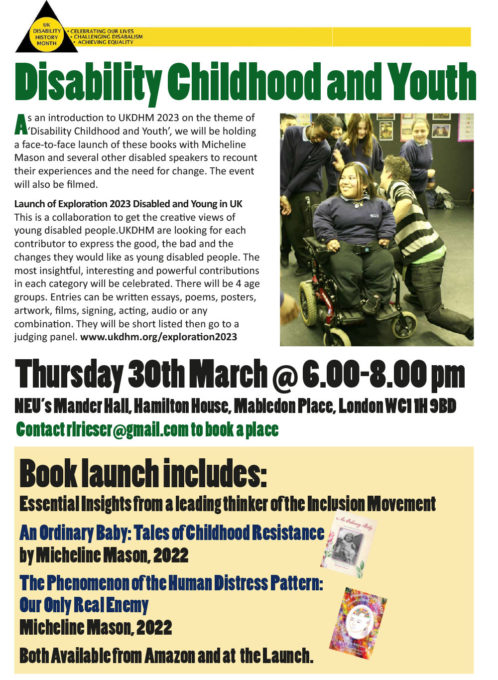 Essential Insights from a leading thinker of the Inclusion Movement
"An Ordinary Baby: Tales of Childhood Resistance" by Micheline Mason, 2022 & "The Phenomenon of the Human Distress Pattern: Our Only Real Enemy'' by Micheline Mason, 2022. Both Available from Amazon and at the Launch.
As an introduction to UKDHM 2023 on the theme of 'Disability Childhood and Youth', we will be holding a face-to-face launch of these books with Micheline and several other disabled speakers to recount their experiences and the need for change. Event will also be streamed.
We aim to start the live streaming of the event at 6.15 pm
This should be British Sign Language Interpreted
A Film of the event will be up on www.ukdhm.org the next day.
Link to stream: www.youtube.com/channel/UCv0E4F5g3KjiNiamWZns3JQ/live
Launch of Exploration 2023 Disabled and Young in UK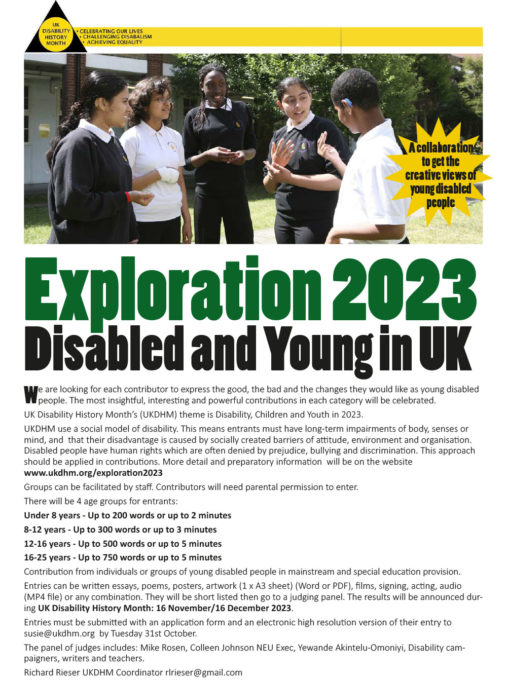 A collaboration to get the creative views of young disabled people
UKDHM looking for each contributor to express the good, the bad and the changes they would like as young disabled people. The most insightful, interesting and powerful contributions in each category will be celebrated. There will be 4 age groups. Entries can be written essays, poems, posters, artwork, films, signing, acting, audio or any combination. They will be short listed then go to a judging panel. www.ukdhm.org/exploration2023
You can still catch up on everything from UKDHM 2022 here.