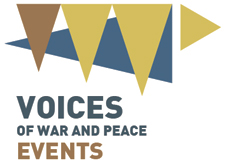 Voices Of War & Peace Birmingham Library & Museum
A series of events, workshops and discussions on WWI.
Of particular interest during UKDHM:
First World War Study Day: Medicine/Injury/Trauma/Treatment
Saturday 6 December 10am-5pm
Study day on the First World War and medicine/injury/trauma/treatment/disability.  Book online
Find out more about The Voices of War Exhibition and related events.