'The Nothing About Us Without Us exhibition is a triumph of bringing together the often overlooked and ignored struggles of disabled people to the wider public.
Shaped around key ideas of the UK Disabled People's Movement, which over the last 60 years, has pioneered the Social Model approach to disablement, self-organisation and representation to challenge segregation, discrimination and stereotypes.
Each of these themes are organised in different colour coded zones of the exhibition space, providing a good explanation on a placard of the themed colour, but without an overall plan it was a little difficult to comprehend, especially if one was visually impaired or colour blind.
'Nothing About Us Without Us' has a large photomontage of actions by the Disabled People's Movement, helpful explanations of Social Model thinking, language and 11 forms of access including content available to visitors accessed through a QR code on either their mobile phone or by borrowing an iPad from the museum. Some people may not be familiar with QR codes and this could make things slightly inaccessible.
Sections include 'Disabled People Fight Back', 'Free Our People' from homes and institutions to independent living, 'Us', which demonstrates the diversity and intersectionality of the Movement, 'Piss on Pity' challenging stereotypes and charity views of us, 'Tragic But Brave' covering Disability Arts and 'To Boldly Go Where All Others Have Gone Before', which covers campaigns for accessible public transport, inclusive education and safe housing. At the end is an area where visitors can consider what should happen in the 'Future' and leave their comments.
The arrangement by colour coded themes made it difficult to trace the historical development of the Disabled People's Movement in the UK; a guide/annotated plan in different formats would have helped.
There is a very rich display of artefacts, and written explanations. In the Introductory section I think including the UKDHM short film on the Social Model of Disability gave understanding of the paradigm shift that empowered, the modern Disabled People's Movement. It would have been nice to see this applied as a wall of barriers. The explanation of language and its oppressive nature was important in this section.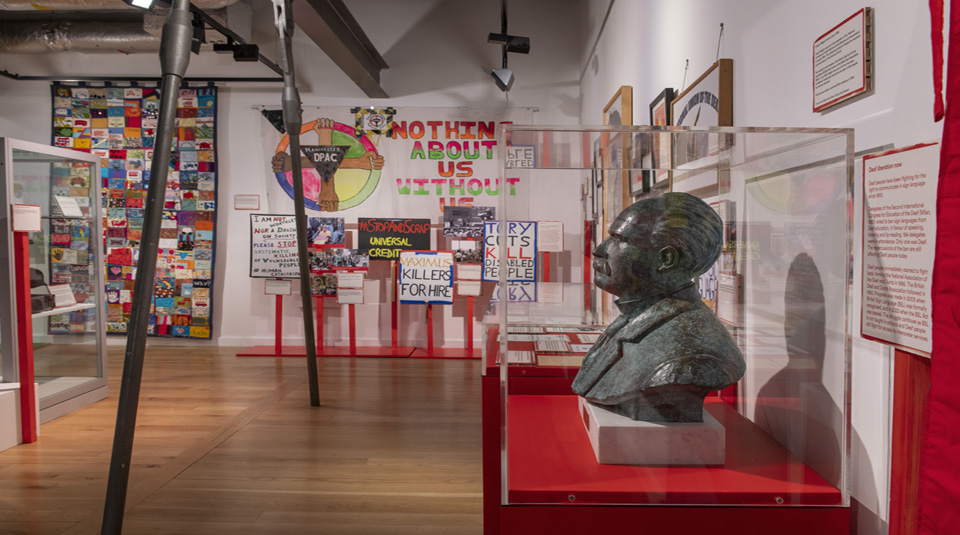 There has never been before an exhibition that has told disabled people's history in such detail and there are plenty of fascinating details. From a copy of the rule book of National League for the Blind, a trade union affiliated to the TUC more than 120 years ago and who organised multiple strikes in 'sheltered workshops' and the famous 1920 march on London; to the bust of Francis Maginn founder of the British Deaf Association in 1890; an organisation of Deaf People opposing the 1881 eugenicist ban on teaching of sign language and campaigning for British Sign Language (BSL) to be a recognised.
The photos and film by the Film Unit at Le Court, Leonard Cheshire Home from the 1950s were a brilliant precursor of an important book of essays written by the inhabitants 'Stigma'(1966) (not in the exhibition). In this book Paul Hunt articulates the first formation of a Social Model of Disability approach. The Union of Physically Impaired Against Segregation Fundamental Principles which followed Paul's 1972 letter to The Guardian, calling for like-minded people to form a new social movement are both in the exhibition; however, the text is not available to access.
Then the British Council of Disabled People (BCODP) grew from the seven organisations, run and controlled by disabled people that came together in 1983, to reach 130 by 1990. While this is mentioned, the emphasis in the exhibition is on local and grassroots activity and organisation of the 1980s and 1990s. Particularly important is the growth of People First and the self-advocates movement, Mental Health Survivors and more recently Neurodiverse groups struggling to be a part of the Movement whilst wishing to be the experts on how they should be represented.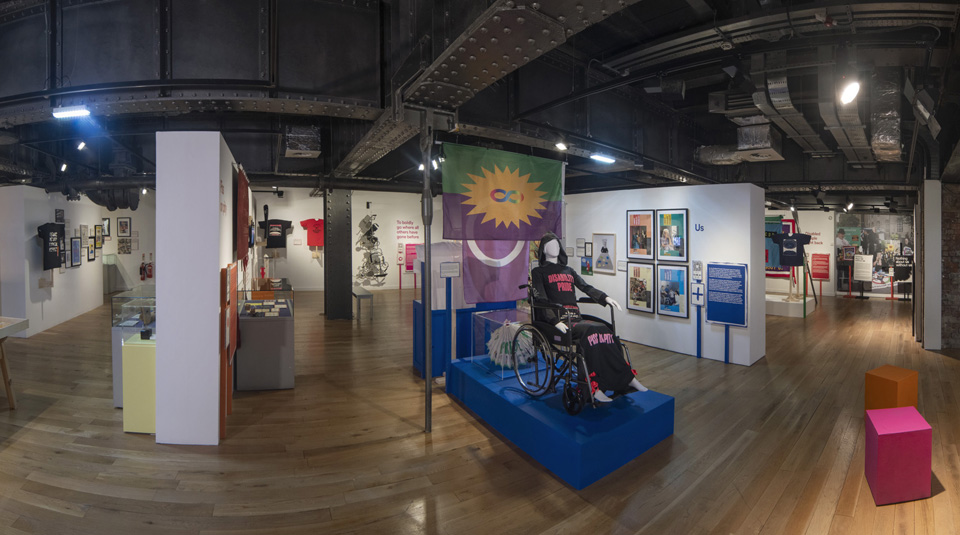 The section 'Us' focused on intersectionality including early Black activists like Nasa Begum and much more recently Black Disabled Lives Matter; Disabled Women's writing, magazines and posters and LGBTQI artefacts, banners and a dress made out of Disabled People's Direct Action Network (DAN) t-shirts worn on Disability Pride marches. In this area there was a noticeable gap, the Liberation Network of Disabled People (LNDP), which took a more experiential/feminist approach and its methods as a different way of organising into the Disabled People's Movement in 1980.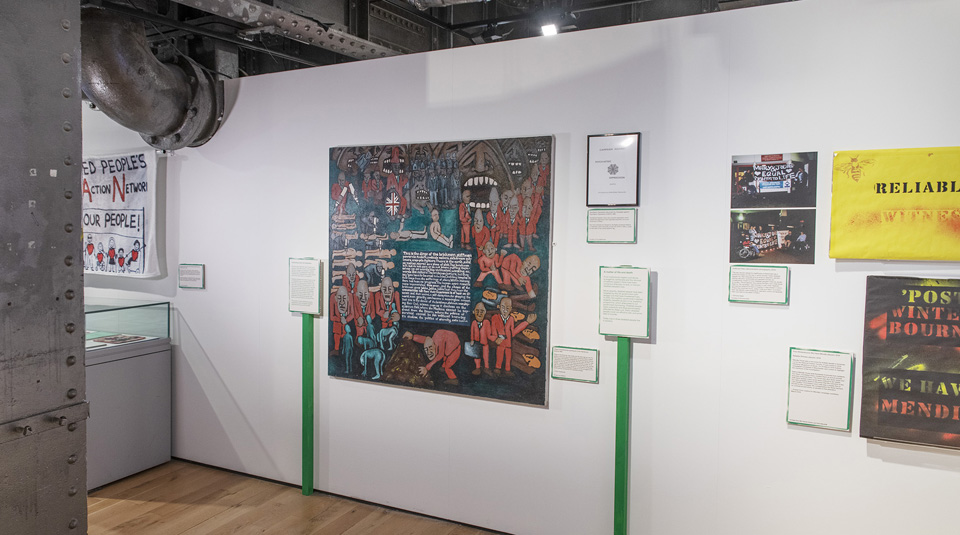 The section on 'Piss on Pity' challenges negative charity views of disabled people. 'Free Our People', the struggle to live independently and not be incarcerated or killed by the state was strong. It features Dolly Sen's film Broken Hearts for the DWP,' Quilt for Laughing Boy' (Connor Sparrowhawk who drowned in a bath in an NHS Assessment Centre in 2013), Colin Hambrook's Survivor painting 'Dirge of Brickman' and the Shrouds for those killed by the Department for Work and Pensions (DWP) benefit cuts by Vince Laws.
'To Boldly Go Where All Others Have Gone Before' highlights the struggle for accessible transport. It also looks at the Alliance for Inclusive Education (ALLFIE), founded in 1990. This featured a personal view of one person and an installation which was very loud, but with good content of various opinions for inclusive education. However, it left out the achievements, such as removing the caveats of the 1996 Education Act in the 2001 Act and many of the successful struggles from the first years of the Alliance, although led by disabled people it gave an important voice to parents and professionals committed to inclusive education.
In 2018 People's History Museum formed a steering group of disabled people and their allies. This group shaped a bid to the National Lottery Heritage Fund and other funders to put on this exhibition. It was agreed to recruit four disabled people to co-curate the exhibition – leading to an exciting and vibrant exhibition, though lacking input of a more reflective perspective, but well worth a visit!'
Richard Rieser
Co-ordinator UK of Disability History Month
Want to find out more?
Book to take an audio described tour of the exhibition on Thursday 19 January at 1.00pm.
Listen to Community Curator Ruth Malkin discussing the exhibition and disabled people's activism, on the Reasons to be Cheerful podcast, Nothing about us without us with presenters Ed Miliband and Geoff Lloyd.
Watch a great piece about the landmark exhibition launch from Granada Reports, which includes footage in the exhibition and interviews with two of the community curators, Anis Akhtar and Ruth Malkin.
People's History Museum is open from 10.00am to 5.00pm, every day except Tuesday.