Disabled People who have made a Difference. download
Impairment, Barriers and Solutions. download
Language and Terminology. download
Making Sense of Disability. download
When part of your body does not work KS2. download
KS2 Disability Equality Starter Lesson. download
The Wall – A short video made with Comic Relief (33MB). download
Understanding Disability – The Social Model of Disability and Human Rights. download
Ways of Promoting Positive Attitudes Toward Disabled People For Pupils. download
Disability Myths and Legends. – This PowerPoint presentation examines the ancient Greek myths of Hephaestus, Medieval myths of Changelings and modern African myths of Albinos. preview pdf Powerpoint (33MB)
Primary Ks2 Yr 5/6 Disability Equality lesson – Here is a sample lesson to round up the unit on Myths and Legends with Year 5/6. Developed by Linton Williams, St Matthias Primary download
Poems that were written by Class 5/6 St Matthias, Hackney after work on Myths and Legends. download
Secondary English
Poems with a disability focus. download
English Work in KS3 and KS4. download
Examples in the news. download
Hacked Off – A Journalist's guide to disability. download
Stereotypes – Defying stereotypes: the way forward. download
What is in the Headlines? download
A case of human rights by Simon Brisenden. download
Richard III and the portrayal of disability. download
Private Peaceful by Michael Morpurgo – Disability Aspects. download
Uppity Downs A Poem by Michelene Mason celebrating World Downs Day
Poems by Disabled People for UKDHM 2016 Poems by Maresa MacKeith,Quiet Riot & Micheline Mason Poems Booklet 2016
Secondary Maths
Maths Activities on Disability and Employment in the United Kingdom. download
Disability and employment statistics. download
Factsheet – Employment. download
Disability and employment statistics definitions. download
Data and Information on Disability and Employment in United Kingdom. download
Mathematical basis of the Braille Code. (The following lesson was developed by Maths Department at Anthony Gell Secondary, Derbyshire.) lesson plan templates codes
Secondary History
Federico da Montefeltro. download
First World War and Disability. download
The Letter to a Teacher. download
Law for the Protection of Hereditary Health – Germany 1933. download
Nazi euthanasia order 1st September 1939. download
The French Revolution. download
Schooling for disabled pupils 1900-1950. download
History – First World War. (The attached powerpoint and lesson plan and materials were developed for Year 8 at Anthony Gell School, Derbyshire by Sarah Tomlinson and David Everett.) powerpoint lesson plan worksheets Medicine at War
Secondary Science
The Human Body and its Impairments. download
Common impairments and their causes. download
Common Impairments Visible and Invisible. (Developed by Chris Carr of Anthony Gell Secondary School, for Year 8 Science.) Powerpoint lesson plan worksheets
Geography
Disability in the USA – Census 2000. download
Music
Ludwig van Bethoven. download
Porgy and Bess. download
Johnny Crescendo and Direct Action Network. download Listen to 2 of Johnny's songs track 2 track 3
Staff Benda Bilili. download
Science and History
Background on Eugenics. download
Ovitz family. download
Lest we Forget. download This shows how the Nazis applied the ideas of the Eugenics movement to exterminate up to 1 million disabled people as a precursor of the Holocaust.
Art
Breughel painter of the people 1521-1569. download
Frida Kahlo. download
Art KS2/KS3 2 sessions examining different disabled artists life and works. download
Modern Languages
The French Revolution. download
Sport and PE.
The Paralympics. download
Citizenship.
Developing Inclusive Education. download
Schooling for disabled pupils 1900-1950. download
Alison Lapper – Statue in Trafalgar Square. worksheet cuttings headlines quotes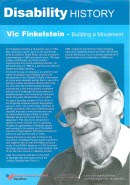 Citizenship and Secondary History.
These six posters were produced by the Birmingham Disability History Project and focus on six leading members of the British Disability Movement and their role in bringing about rights for disabled people.
Ian Stanton – Natural Born Rebel. download
Paul Hunt – Institutions are not solutions. download
We are not Objects of Pity – Block Telethon. download
Vic Finklestein – Building A Movement. download
DAN – To Boldly Go Where Everyone Else Has Gone Before. download
Not Dead Yet – Jane Campbell. download
Dave Lupton Cartoons – writing as Crippen.
Crippen asks Bob Williams-Findlay to share his experiences with the Spastics Society. download
Equality issues don't fit in silos. download
Crippen looks at Neurodiversity. download
Citizenship and Personal Social Education.
Johnny Crescendo and Direct Action Network. download